Currently available
Recently sold
ARTIST
DESO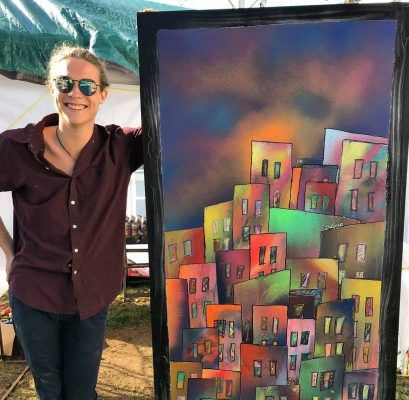 Discover DESO, winner of the Galerie Québec Art's contest, L'art de la relève!
His name is Émile Desaulniers, but he expresses his creativity under the name DESO.  He is 23 years old, and a very promising Canadian artist.
He developed his own technique and style, painting mostly with spray paint, and using different mediums for a surprising and refreshing textured result.  He paints lively cities, crowded with buildings, each one more colourful and fanciful than the others.  His buildings with asymmetrical forms are integrated into a static but dynamic composition from which emerges a city that seems bustling with life.
Having first started to paint with traditional acrylic, DESO quickly turned to spray paint that he layers with other aerosol mediums, and sometimes with latex paint, thus obtaining interesting and various reactions from the material.  Although his workshop is very well-stocked, he paints with what he has on hand, or rather, what he finds most practical: his hands, a knife, a cotton rod, a screwdriver, a ruler.
He adds layers of acrylic, latex or aerosol, then scratches, sculpts and draws, thus creating life in the inhabited buildings.  He often adds bold pastels, to accentuate the borders of the buildings, soiled by urban dust.
His cities are full of life, but it is the buildings that act like stars, at least, at first glance. However, by looking more closely, silhouettes or shapes can be seen by the window tiles, and it lets us imagine various scenes: a couple kissing, a voyeur, a child toy, a crime being committed.  A closer look also allows to discover tags, hidden letters (D-E-S-O) or known symbols.
Then there is the third degree.  The main object of his work – the city- is often seen through a window, thus placing the spectator as an actor of the canvas, in the heart of the city.  The gaze is therefore active and passive, absorbed in the canvas, while acting as an observer of the life that takes place there by his window, and then, through the windows of the buildings.
DESO creates modern and joyful work, with a whimsical comic-book vibe.  He experiments, invents, and shapes.