Currently available
Recently sold
ARTIST
Josée Desharnais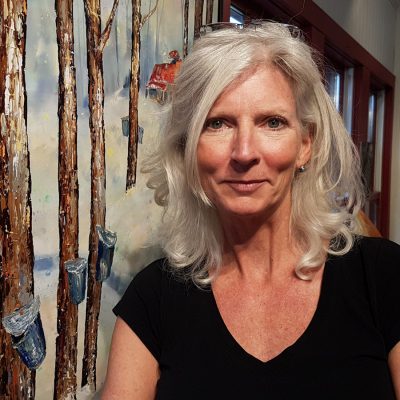 Josee Desharnais was born in Montreal, Canada in 1961. She studied at the Academy of Fine Arts of Laval in Quebec.
She is a contemporary painter with a realism influence.
Her artistic approach is entirely focused on the transmission of light using the concept of the focal point of a camera lens.
Her technique is based on the principle of painting in layers. She starts with a thin colourful background and finishes with a rich texture using brushes and palette knives. She is fascinated with the impact of each season on nature. The way the light, colours and shades interact and influence the design, structure, and space of her creations. Her distinctive style emerges from her previous work in visual art medias like stained glass, photography, graphite, and watercolours. The result in her art today shows a perfect balance between light, colour, depth, volume, and motion in each painting.
For her, as an artist, to produce good work is to explore all the different facets of composition, colour and technique and not just reproduce an image. Although she considers herself a figurative painter, she always seeks to find this essential balance between the abstract form and the realism of the subject. You could say that she is on the border between the realistic and the non-figurative, or the traditional and the modern.
Her love of nature influences her daily works.
She lives and paints in Mont-Tremblant, Quebec.