Currently available
Recently sold
ARTIST
Nancy L. Moore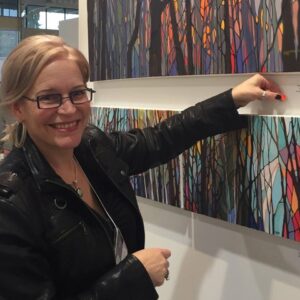 Nancy L. Moore was born in Ajax, Ontario. She is currently based in Newtonville, Ontario
Nancy is a graduate of the Graphic Design Program at George Brown College. She continues to further her artistic development by attending a variety of workshops and classes.
Nancy grew up in a household where art and creativity were always encouraged. She gives credit to her late father, Wayne Moore, an artist who loved nature, who gave her a solid foundation on which to build.
Since 1997 she has been the co-owner of "Seastar Images Inc.", a graphics company located in Ajax, and although still involved in the graphic design industry, her passion has always been fine art.
Nancy says: "As an artist, I feel incredibly fortunate to be able to paint and draw without boundaries. While I enjoy experimenting with different mediums, I have been drawn to working in acrylics lately. My style is largely experimental, with an emphasis on abstracting nature and landscapes. I never set out to replicate an image, but instead, strive to convey a mood or evoke an emotion using loose lines, rich textures and bold colours."
Nancy is a member of the Federation of Canadian Artists, Society of Canadian Artists, Ontario Society of Artists and Artist Network, Toronto. Her art has been exhibited at galleries all over southern Ontario.
Nancy has donated her artwork to several community causes. Recently she donated the proceeds from the sale of prints of her Remembrance Day painting, "The Poignance of Poppies", to benefit those who have served our country.