Currently available
Recently sold
ARTIST
Jamie McCallum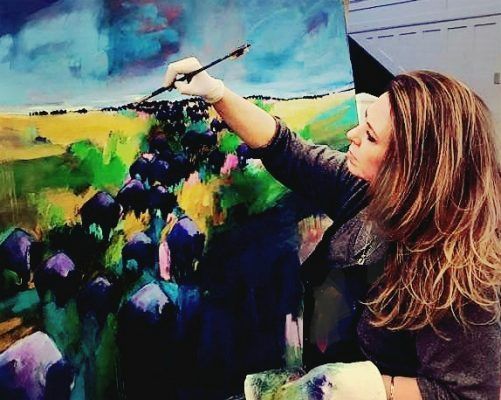 Jamie McCallum grew up on a cattle ranch just south of Brandon, Manitoba. Her early years on the farm have always been a source of inspiration and her love of animals and the vast prairie landscape are often  reflected in the subject matter of her work.
Jamie was formally trained in North Dakota where she received a degree in graphic design. After graduating, she ventured to Minnesota where she continued to build on her knowledge and love of art throughout her career. Whether it was graphic design, photography, art & framing galleries, or many years in the beauty industry – her experiences have all contributed to her abilities and helped hone her eye for composition, colour, and balance.
Her desire to paint has always been present and taking brave steps toward an art career has been a long time coming. Painting and creating are true passions for Jamie, and after returning to Canada in 2013 she has been afforded the opportunity to finally follow this dream. Her work is contemporary, gestural, and celebrates a broad subject range full of whimsy and humanity. Jamie pushes proportions to evoke mood and curiosity, and utilizes the power of colour and texture to further extend these boundaries.
After spending time in British Columbia, where she painted with longtime friend and mentor Canadian artist Angela Morgan, Jamie recently returned to her home province of Manitoba and now resides outside Riding Mountain National Park.
"My work is a reflection of my inner spirit and the journey of my creative purpose. It speaks of my return back to Canada, the farm girl I have always been, and the Prairies that called me back home"