Currently available
Recently sold
ARTIST
Anne Marrec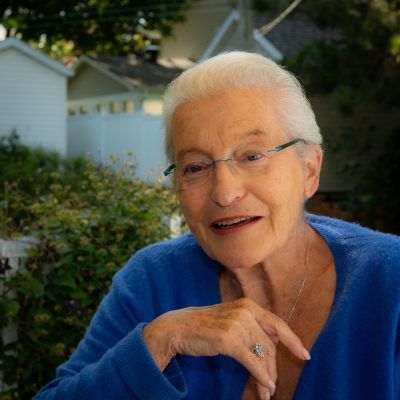 Anne Marrec was born in the Drôme region in France and has been living in Québec since 1969. Her family did not want her to pursue an artistic career, so she studied politics, letters and administration while still painting in her free time; something she has been doing since her childhood.
For her, Art is above all other activities in life. Drawing, painting, seeing and sometimes sculpting; these are her way of existing and being happy.
The artist mainly depicts movement in a style and a technique that is unique to her. It consists of overlaying spots of colours and drawings on a canvas or white or coloured paper. Her favourite subjects are anything that moves: the naked human body, dancers, skaters, musicians caught in their songs, birds in flight, flowers in the wind, horses with wild manes or even a mix of these subjects brought together in the same whirlwind.
Uncategorizable, Marrec belongs to no specific school. The variety of her sources of inspiration and of her training, together with her strong and unique personality has contributed to her style which is both contemporary and classical, academic and completely personal. Her paintings resist framing unless the framer finds a way of not imprisoning the canvas and keeping the freedom which is extremely dear to the artist.
In 2001, Anne Marrec was decorated as a member of the Order of Academic Palms in France. She received this highly prestigious distinction both for her academic and artistic work. Her name was also added to the French catalogue Benezit, a major directory of French art history. Honoured by France, it is mainly on the North-American market that her paintings can be found.
Member of the Order of Academic Palm, awarded by the French government in 2001.
First Prize of the jury (free theme) and second prize (theme: circus) at the Baie-Saint-Paul painting contest in 2009.
Public's choice, "Rêves d'automne" symposium in Baie-Saint-Paul, 2009.
Member of the jury for the Québec Artistic Society.
Honoured painter by the Quebec Garrison Club in 2014.
President of the symposium of the Québec Artistic Society in June 2015.
Numerous press references, most recently Magazin'art no. 85 and 106.