Currently available
Recently sold
ARTIST
Marie-Andrée Leblond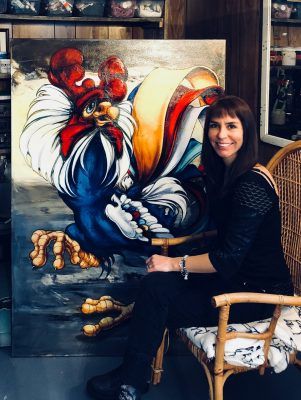 Born in St-Jean-sur-Richelieu in 1978, Marie-Andrée Leblond quickly developed an interest for visual arts.
At 12 years of age, she was interested in drawing and at 14 she taught herself oil painting. She has a visual art degree from the Cegep du Vieux-Montreal and a drawing training for Salette College.
After taking part in several municipal exhibits, her work gave her the occasion to win several prizes and galleries started to notice her. In 1999, she won the ''Public's Prize'' at the ''Printemps Art-Visuel'' exhibit in Brossard. This recognition made the Clarence Gagnon gallery notice the artist and start her professional career.
Leblond mainly uses acrylic paint and she accentuates certain parts with watercolour to give her paintings a richer colour. She uses her unique technique to paint all of her favourite subjects: roosters, bulls, horses, flowers, and portraits. Her style, sometimes close to the comic book style, is very dynamic and stands out by its incredible quality, resulting from more than 20 years of experience.
The artist still takes part in many exhibits in Quebec and internationally, such as the Carousel du Louvre in Paris in 2009, which gave the European public the opportunity to notice her.
Marie-Andrée Leblond's work is part of both private and public collections.