Currently available
Recently sold
ARTIST
Pierrette Voghel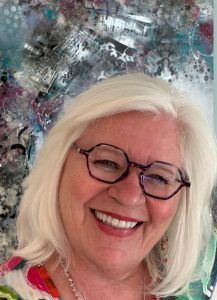 The desire to create has always been in me
To paint is a necessity allowing me to return to my essence.
After some time, my passion has become a mission…
To create and share beauty through my art because I am deeply convinced
That beauty creates good…!
I love people, I love places, I love colour!
These elements are all very present in my moods and are
The Muses of my inspirations. By allowing myself to feel these precious emotions,
They become stories to imagine in a figurative or abstract way,
Depending on the moment.
Then, creation begins…
I joyfully paint tissue paper, celebrating playfulness and liberty.
I then gift them patiently to the white and empty canvas.
Excitedly, I watch the result and listen to their inspiring talk.
Then, I add various mediums, overlaying them to obtain
Strength, kindness, and texture all while keeping
The precious transparency the inhabits me.
When the piece reveals my secret sensibility,
Without hesitation, with spontaneous and free movements,
I unify everything with a unique and personal calligraphy.
And every time, the magic of creation happens…
It is the birth of a new artwork…
It is my greatest happiness to share beauty
One that is good for the mind, the heart, and the soul…