Currently available
Recently sold
ARTIST
Pierre Juteau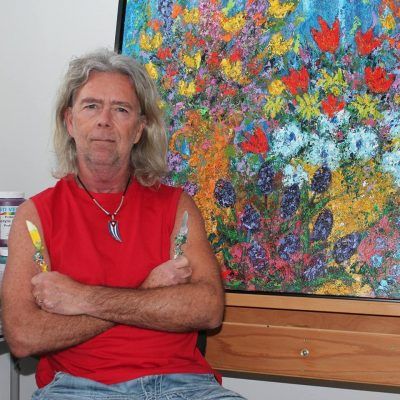 Pierre Juteau (1956, Saint-Antoine-des-Laurentides (St-Jérôme), Québec, Canada) is a self-taught painter who started painting in 1990.
Inspired by impressionism and fauvism in his early days, he then developed a style characterised by the use of vibrant and saturated colours. His approach is inspired by the great theories of modern physics, particularly the String Theory. He finds this type of inspiration in the writings and research of Pierre Teihard de Chardin and Jean-Émile Charon.
His recent work is notable for the use of textured and complex backgrounds that resembles Calabi-Yau. mathematical spaces. These spaces mixed with Juteau's particular use of painting material create their own iconography. This iconography creates different levels of reading for the viewer, who is invited to use his own imagination to explore the numerous dimensions of the artwork.
Pierre Juteau's painting express a never-ending quest about the human spirit and the universe. It also has a critical dimension about the society in which we live . In 2008, Juteau and his close collaborator launched together with the open source project Darwin a research project with the goal to join his scientific interests with his artistic vision.
Awards and artistic involvment :
Member of Greci-Marino, Italy
Leonardo Da Vinci Award, Italia In Arte, 2009
Alba Award, Italy
Represented Canada at the 2005 International Biennial of Florence, Italy
Participated in Art Basel, Miami, 2006, following an invitation from NY Art Magazine
Participated in various international exhibitions (Switzerland, Austria, Italy, USA, etc.)