Currently available
Recently sold
ARTIST
Sandee Ewasiuk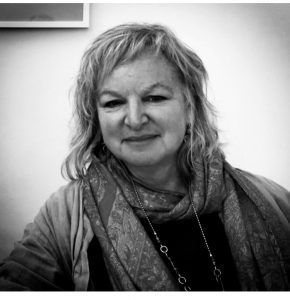 Sandee Ewasiuk is a painter who resides in Hamilton Ontario.
She's a graduate from the Ontario College of Art in Toronto, Ontario where her focus was editorial illustration.  She has also taken many Art History courses at McMaster University in Hamilton.
Sandee has been exhibiting for almost 30 years with paintings in private collections around the world.
She works in acrylic mostly, with some mixed media, including various papers to create patterns and texture.
Sandee is known mainly for her stylized figurative paintings with her most recent inspiration coming from her connection with wildlife.  Sandee has travelled across Canada, camping along the way, as well as in many parts of Australia and she draws from those experiences.
She taught art for many years at the Art Gallery of Burlington and currently teaches at the Dundas Valley School of Art in Dundas, Ontario, as well as Fleming College, (Haliburton School of Art and Design) in Haliburton, Ontario.
Sandee describes her paintings as "capturing a moment of life, an emotion, a thought…using a gesture or an expression, along with colour, light, texture, brushstroke… painting a story"