Currently available
Recently sold
ARTIST
Phil Carrière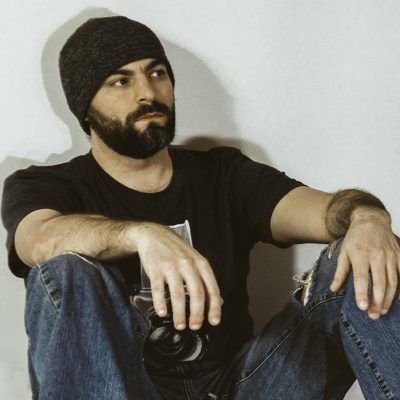 In the constant quest for learning, Phil constantly pushes its limits.
He is a self-taught photographer and graphic designer who graduated in cabinet making. He worked for over 18 years in the field of printing and woodworking. His passion for design and arts brought him to photography. It's curiosity and devotion to different printing technologies and the wide variety of materials that motivates him to discover unique and remarkable finishing processes. Real explorer and open-minded, his passions come to life in his art. Here, woodworking meets photography.
His knowledge of print technologies started as a kid in Maniwaki where he was born and raised. His father was the proud owner of a print shop, Phil grew up surrounded by wide format and offset printers, letterpress, vinyl cutters and all the equipment which applies to the print & signs industries. While all the kids of his age were playing Nintendo, Phil was spending most of his time replicating logos and designs using the very first commercialized black and white Macintosh.
After high school, he studied Graphic Design at the Algonquin College of Ottawa but never finish his degree. That did not stop him, he worked for his father in the sign department for over 5 years. During those years, he learned every aspect of this industry. He spent as much time doing graphic design then physically making the projects as well as customer service. As he was gaining experience, the projects have become more complex. At some point, he started to make hand-carved signs and it's at this point that he discovers a passion for woodworking.
A decision had to be made and Phil decided to go back to school to get his degree as a cabinetmaker. Once he had his degree, Phil return to Maniwaki and worked for a carpentry company. They were specialized in custom furniture and kitchen cabinet. Among his multiple tasks was CNC programming and operation. Once again the things he did learn during those years have an inestimable value to him.
It's only in 2013 that Phil was introduced to photography. Since he was constantly wandering in Montreal and in the area, he decided to carry a camera with him. It quickly became a passion. Phil being Phil, he could not keep it simple and once again pushed his limits. Using his knowledge, he found innovative and unique ways to bring his photos to life.  In 2016, Phil has received a Photography degree from College Marsan in Montreal. His photography style keeps on improving and he is constantly on the quest of finding ways to finish his pictures, ways that have never been done before.