Currently available
Recently sold
ARTIST
Nathalie Voisine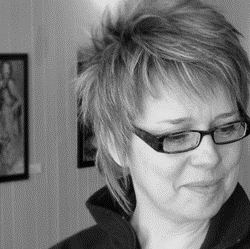 Nathalie Voisine was born in Québec and studied at Sainte-Hélène de Kamouraska QC.
She decided to move from Quebec City to the lower St-Laurent area because of the nature, river, serenity and the great outdoors where she could connect with the environment and discover her passion and inspirations to paint.
For the past 16 years, Nathalie's process of creating her artwork usually begins with simple random gestures drawn across the canvas, from that point the subject is determined and she starts bringing her subject to life with the mixture of both vibrant and settled colours and movements and strokes of her brush.
She has participated in many important solo and collective exhibitions throughout her career. In 2012, she took part in the world-renowned Rêves d'Automne painting festival in Baie-Saint-Paul, Charlevoix. She was then selected by the jury, including famous Canadian painter Tex Lecor, to be a finalist for the National Painting Contest with her piece L'artiste.
In 2013, she participated with three other artists in a painting symposium to raise funds to help the victims of the Lac-Mégantic tragedy. In 2014, she presented the exhibition Entre ville et mer… il y a même le ciel ("Between the City and the Sea… There is The Sky") with artist Isabelle Daval in the historical theatre L'Entrepôt in the city of Lachine.
In the same year, an important solo exhibition comprising 17 of her pieces was shown in the Kamouraska Regional Museum. The exhibition titled Histoire à regarder ("History to look at") was a tribute to that region and the people that inhabited it throughout the years. All the 17 pieces she made for this exhibition depict scenes and characters related to Kamouraska and its rich history.
Today, Nathalie Voisine is represented by Galerie Québec Art in Québec City, Québec and Gallery Q in Cavan, Ontario.
Artist Statement:
"I let the forms appear. From the pitted textures of the canvases and transparency of paints, a character is born. My imagination and emotions guide my colourful creations. I harmonize the work, leaving a way for creativity, following the movements of the canvases, emotions lead me through unknown paths. I am always fascinated by people. I like to see their faces, their expressions and their body movements. I love other cultures and I also enjoy the theatrics. When I work, I put myself into a completely different realm so I can relate to my characters, like an actress who plays a role. I like to create my stories and universe around what takes shape on my canvas. To me, my paintings are part of my body, my mind and my soul." – Nathalie Voisine