Currently available
Recently sold
ARTIST
Dominik Sokolowski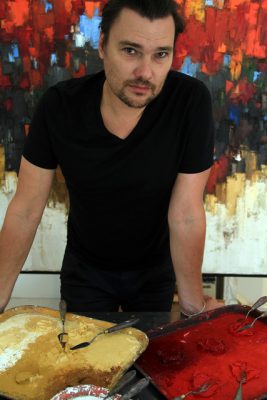 Born in Poland, Sokolowski spent his adolescence in the province of Quebec in Canada, where he studied Art and Graphic Design at University. He developed his unique and distinguished style very early in his career.
Despite Sokolowski's young age, his devotion to his art has already earned him a very strong presence, recognition and success in Canada and abroad. His works are being showcased in many international galleries and art fairs, and acquired by private, corporate and institutional collectors in Canada (Toronto, Montreal, Baie St-Paul, Saint-Ours), France (Lille, Strasbourg), China (Shanghai) and USA (Atlanta).
Sokolowski's skill, passion and energy allow him to grow rapidly as an artist and to create profusely, with a maturity that is seldom seen in artists of his age. Over the years, he has never stopped challenging himself, evolving in his production and never failing to impress collectors with the diversity, excitement and intensity of his works. Yet his highly personal style remains recognizable, timeless and true to his trademark.
Given his notoriety and desirability, it is hard to believe that it was just 10 years ago that he first graced the art scene with his brilliant and colourful style. Those art lovers who appreciate and follow Sokolowski will find that he has more surprises in stock for them, which will ensure that he continues to influence the art world!