Currently available
Recently sold
ARTIST
Denise Pelletier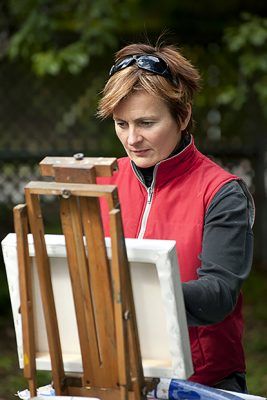 Born in the Lower St-Lawrence region, Quebec, I have been painting for over 20 years.
Following my studies in graphic design, art history, and education, I pursued and nourished my artistic journey while also navigating a career teaching art in Ottawa, Ontario.
I have had many extended stays overseas, which have allowed me to renew my energy and paint freely. In addition to working on my technique as a student at the Ottawa School of Art, I also flew off to France to study at l'École des Beaux-Arts in Avignon.
I loved it! My time in Avignon was followed by immersive stays in England, Italy, Ireland, Scotland, France, Morocco, many more stays in Provence, and, of course, Croatia.
I also managed to share the essence of Quebec through the seasons.
My easel always packed in my bag, I travelled to the Laurentians, the Magdalen Islands, Charlevoix, and the Outaouais and immortalizes them on my canvas.
I love to plant my easel firmly in nature, often spontaneously inspired by scenery and unexpected opportunities.
Guided and inspired by masters such as Manet, Boudin and the Nabis I humbly pursue my quest for beauty, eager to share the moments I immortalize through my work.
I currently spend most of my time travelling between Charlevoix and the Outaouais in Québec, following my inspiration.