Currently available
Recently sold
ARTIST
Claude Lépine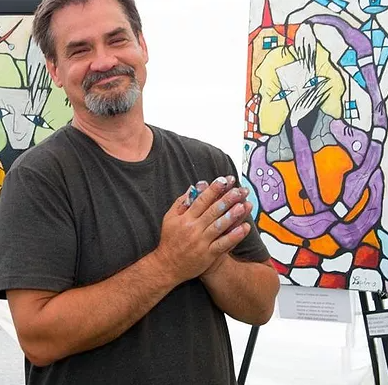 Claude Lépine was born in the city of Granby Quebec in 1964. He is the youngest of a family of four children. At the age of one, his parents moved to Montreal in the Plateau Mont-Royal neighbourhood where Claude flourished as a child and teenager.
Painting has amazed him since childhood, but the passion came when he met the work of the painter Riopelle. Inspired, he started to paint with immense interest in oil painting and acrylic. His paintings are now present throughout Canada, California and France.​
A multidisciplinary and self-taught painter, Claude Lépine likes to express his emotions through his works. Via mediums, spatulas and brushes, he delivers his moods of the moment… exaltation, pain or sadness. These moods are transformed, deposited on the canvas and testify to their presence. With fluidity of movement, Claude Lépine creates vibrant intertwining with vibrant colors.
In recent years, a semi-figurative character has emerged from these dynamic pictorial explorations. The artist nicknamed her Madame. To create this character, Claude Lépine was inspired by his mother, at the time a professional seamstress, for whom each dress was made magic. From this idea, he developed a series of canvases with Madame as the heart. Madame, with her colourful dresses, experiences all kinds of adventures and emotions.Member of IAF ,Mundial Art Academia and féderation of canadian artists