Currently available
Recently sold
ARTIST
Lyne Lavallée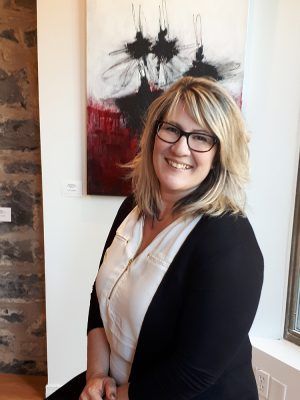 Originally from Victoriaville, Lyne has been living in Québec City for more than thirty years.
In 1991, she received her college diploma in Graphic Arts from CEGEP Rivière de Loup, she then continued her studies obtaining in 2015 a multi-discipline BA in Visual Arts and Psychology. In 2018, she graduated from the University of Québec after having completed a course in Art Therapy. She is constantly in search of acquiring knowledge and professional skills as she pursues her academic training.
Since 2014 she has exhibited her art works in various regions of Québec and is now in hands of many private collectors. Attracted by Dance as she has practiced Ballet for several years, she now illustrates her love of dance in her art. Her work expresses at first hand movement, softness and esthetics. Her work focuses on illuminating the human form in action. Silhouettes and faces take second place to the choreography of movement expressed in dance. Spontaneous gestures and freedom of movement help the artist create the impulses of the subject as well as evoke tenderness and sensibility.
Lyne invites the viewer to retreat in time and space and to contemplate on the fragile and yet forceful expression of mankind.