Currently available
Recently sold
ARTISTS
Alex Cuber et Gabriella Luciano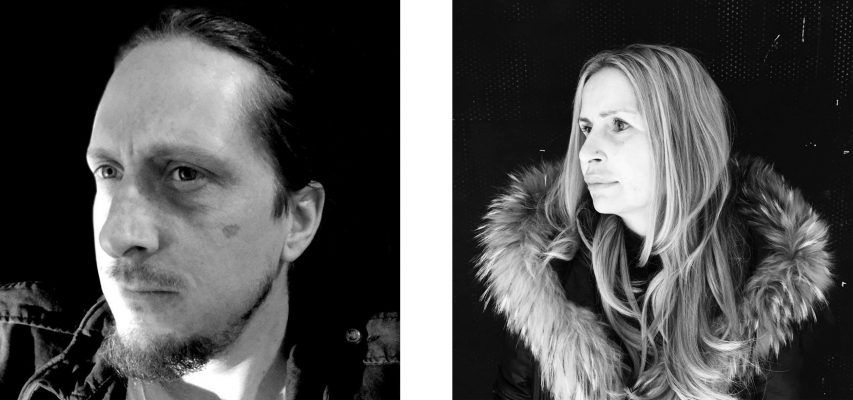 CUBER :
Born in Montreal in 1975, Alex Cuber studied at the Fine Arts School in Montreal where he received a diploma in Graphic Art and Commercial Design. He worked for several years in the fashion world where he created his own and definite style.
His choice of media is acrylic and oil on laminated steel. The paradoxes of his work are ever-present in the contrast of industrial elements in opposition to sensitivity and emotion, abstract versus figurative as well as order versus chaos. At the inception his work takes on an abstract approach and then progresses more towards realism, thus he qualifies his work as abstract realism.
The use of numerology figures prominently in his work, using a personal code, each work is numbered, giving it a specific place in space and time, as well as order and disorder. His work thus becomes a living catalogue of his life and experiences. In different ways, he is inviting us to share his world.
Cuber has participated in many exhibitions both collectively and as a soloist in Montreal to now include many places throughout North America. His works have been selected as cinematographic décor and his work figures prominently in many major private and corporate collections in North America and Europe.
 LUCIANO:
Born in Montreal in 1976, she has lived and worked in this vibrant city. A graduate of LaSalle College in Fashion Design, Gabriella Luciano has worked as a fashion designer for over twenty years, a cherished childhood dream! The moment when she was accepted at the National Theater School of Canada in Design conception, she was offered the position of head designer for Liquid Snowboards, thus affording her the opportunity to forge her name in the fashion world.
Luciano has also been the fashion creator for Parasuco, Point Zero and Hollywood Jeans, once again affording her the opportunity to present her work at the Desjardins Complex and receive prestigious prizes in recognition of her work. Parallel to her fashion career, Gabriella produced both paintings and collages, thus transposing her skills from fashion into her art.
Always looking for light and love, Gabriella decided to leave the lights of the catwalk in search of a new direction which she found in the world of authenticity grace and connection to reality. Self-love, compassion and non-judgmentalism as well as meditation became the new foundation of life. She studied Naturopathy as a means of healing. The cultural shock between the two worlds was transposed into balance and harmony in her work
Her work demonstrated the crossroads of technique and social aspects of life, as a multidisciplinary approach is at the heart of her esthetics. As with many other artists, Gabriella found peace and a way to cure the ills in the quiet tranquillity of her work.
Every day, we wear clothes and accessories which do more than embellish our bodies, we chose them in terms of our personality, our mood, our timeframe, our ambitions and our desires. We also decorate our walls the same way, with a taste for colour and elegance.
She has participated in many exhibitions across North America and her art is a part of many collections in North America and Europe.